Cuplock Scaffolding Systems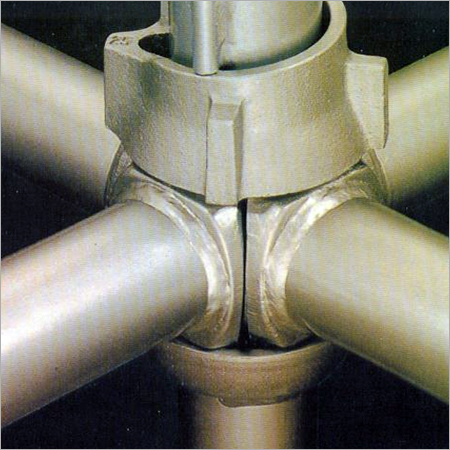 Cuplock Scaffolding Systems
Product Description
Being a quality centric firm, we are engaged in manufacturing, exporting and supplying Cuplock Scaffolding Systems. In order to manufacture the offered scaffolding in tune with defined quality norms, we make use of premium quality basic materials with the help of sophisticated techniques. Tested on various parameters to assure its flawlessness, this scaffolding finds its wide applications at construction sites. Furthermore, the offered Cuplock Scaffolding Systems is available with us at the most affordable rates.

Features:

Superior finish makes easy installation

Withstand against adverse conditions

Can bear high pressure due to strong construction

Utmost resistant against corrosion

Sturdy design ensure its high durability
Specifications:
| | | | |
| --- | --- | --- | --- |
| Cuplock Standard (Vertical) | Cantilever Frame | Beam Brackets | Universal Jack |
| Cuplock Ledger (Horizontal) | Inside Board Transoms | Fixed Forkhead | Spigot Pin |
| Cuplock Omega Transoms | Bridging Horizontals | Spigot | Longitudinal Bracing |
| Cuplock Omega Hop-Up Brackets | Cantilever Frame | Adaptor | |
| Galvanized Steel Batterns | Socket Base | | |

Highlights

Quick fastening in a horizontal manner. Four horizontal bars can be attached at one time in order to assure the firm clamping action of top cup for further strength and rigidity of the joint.
It has advantages like expeditious assembling and dismantling, thus saving time and labor.
Flexible application in construction, dis-assemblage and maintenance works for any type of structure : Straight or Curved.
Easy assemblage is possible without the use of many components. It features Lightweight yet greater load-bearing capacity up to 57 KN per vertical, Minimal maintenance, Reliability with proven track record.

CUPLOCK STANDARD (VERTICAL)
Cuplock Scaffolding Joint is formed with vertical shaft from 40 mm. N.B. 'M' or 'H' Tubes in parallel with I.S. 1161 grade- YST 210/240 or B.S. 1775 grade 40C and 50 C in the integration with cups at the rate of 500 mm or 1000 mm c/c. Cuplock, designed by DSCPL complying with improved standards, is available in sizes mentioned below.
Important attributes of Cup Lock Standards are:

High-strength steel and captive mobile are used to produce Welded Bottom Cups. These top cups uses malleable casting which provides a strong grip to ledger blades making the connection sturdy and firm which is needed for coarse sites.
Cuplock is designed with integral 150mm to match the industrial standards. Also it includes a Long spigot which helps in making vertical connections possible.
| | | |
| --- | --- | --- |
| SIZES AVAILABLE | 3.0M, 2.5M, 2.0M, 1.5M, 1.0M | **Special sizes on request |
CUPLOCK LEDGER (HORIZONTAL)
Cuplock Scaffolding Brace is held in tubes which are made out of 40 mm. N.B. 'L' or 'M' galvanized steel in agreement with I.S. 1161 grade, YST 210/240 or B.S. 1775 with the forged blades at the bottom.
Basic features of Cuplock Ledgers are: - Less projection of blades reduces the possibility damages while handing as well as uniform dimension reinforces the cup joint.
| | | |
| --- | --- | --- |
| SIZES AVAILABLE | 2.5 M, 2.0 M, 1.8 M, 1.6 M, 1.5 M, 1.3 M, 1.25 M, 1.2 M, O.9 M, O.6 M | **Special sizes on request. |
CUPLOCK OMEGA TRANSOMS
Omega Transoms are manufactured from press bent section with flange type extensions on both sides which provides a strong support for operational platform with Cuplock steel battens.
| | | |
| --- | --- | --- |
| SIZES AVAILABLE | 0.9 M, 1.3 M | 1.8 M, 2.5 M |
CUPLOCK OMEGA HOP-UP BRACKETS
Omega Hop-up Brackets are primarily fabricated with omega sections for fixing battens in alignment with forged blades being fitted with Cuplock standards through the cup joint. Omega Hop-up brackets can be fabricated with single board, double board and triple board allocations.
Single Board Bracket
GALVANIZED STEEL BATTENS
These steel battens are light in weight and have a anti-slip working surface, which can be utilized with omega transoms.
| | | | |
| --- | --- | --- | --- |
| SIZES AVAILABLE | 2.5M X 0.238M X 0.057M | 1.8M X 0.238M X 0.057M | 1.3M X 0.238M X 0.057M |
CUPLOCK INTERMEDIATE TRANSOMS
Hop-up brackets are used to bridge the distance between standards exceeding the span of boards, Cuplock Intermediate Transoms are designed with either 2 or 3 boards.
| | | |
| --- | --- | --- |
| SIZES AVAILABLE | 0.565 mm. (2 Board) | 0.795 mm (3 Board) |
INSIDE BOARD TRANSOMS

Equivalent to the Intermediate Transoms; the Inside Board Transoms are utilized for providing facility for a one-and-only inside board platform.
BRIDGING HORIZONTALS
Bridging Horizontals are used for preparing the working base, attached with guard rails for vehicle passage.
| | |
| --- | --- |
| SIZES AVAILABLE | 5.0M 7.5M |
CANTILEVER FRAME

For propping up the formwork at edges, the Cantilever Frames are used. The frame exemplify ledger blades attached to Cuplock standards at one end and dangles over at the other end spanning 1.2m, 1.25m and 1.3m from centerline of the standard.
| | |
| --- | --- |
| SIZES AVAILABLE | 1.0 M, 1.5 M |
BEAM BRACKETS

To sustain the beam formwork as well as prop up the standards in a method for accepting jacks or fork heads; beam brackets are used. 1500kg is the acceptable and safe load carrying capacity for these brackets.
FIXED FORKHEAD
To propose height adjustment ability; Fixed forkhead jointly with universal jack can be utilized with Cuplock standards.

| | | |
| --- | --- | --- |
| SIZES AVAILABLE | 0.086 M X 0.2 M | 0.162 M X 0.15 M |
SPIGOT

Made out of 300 mm long square tube and with out and bolt spigots are used for connecting verticals.

ADAPTOR
The Drophead Adaptor units provide for the easy conversion of Dropheads from the Waffle and Trough or Metriform Support Systems for use with Cuplock.
SOCKET BASE
The Socket Base is conjointly used with the Universal jack and is drilled to allow the incorporation of a securing bolt if required. The dimensions are as mentioned.

UNIVERSAL JACK
Screw Jack facilitates and elevates the level of height. It is put to work either at the top or at the bottom of a scaffold structure. Forkheads, Socket Base and Drophead Adaptors are also used in coalition with it.

SPIGOT PIN
To survive minor tensile forces between vertical members an efficient locking device without loose nuts and bolts is fabricated as spigot pin

LONGITUDINAL BRACING
A range of longitudinal braces created out of 20mm are used for diagonal bracing of scaffolding. It also has N. B. 'L' tubes with spinning forged blades at dual ends to be fitted into cups of Cuplock standards
| | | | | |
| --- | --- | --- | --- | --- |
| SIZES AVAILABLE | 2.50M X 2.00M | 2.50M X 1.50M | 1.80M X 2.00M | 1.80M X.1.50M |
Trade Information
Telegraphic Transfer (T/T), Cash in Advance (CID), Cash Advance (CA)

10000 Per Day