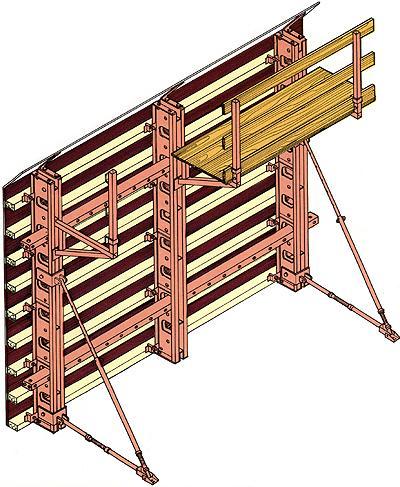 Formwork Metriform
Product Code : DSCPL-06
Product Description
We are a quality-oriented manufacturer, exporter and supplier known for offering Formwork Metriform to our clients. The offered metriform is manufactured with utmost perfection using optimal quality metal alloys and cutting-edge techniques in conformity with set quality standards. This metriform is suitable for temporary erecting stable structures for ease in working at heights during construction, painting or repairing tasks. Apart from this, we are offering this Formwork Metriform to our clients in various designs and dimensions at the most affordable prices.
Features:

Dimensional stability to minimize vibrations while working

Excellent durability for assuring superior strength and load bearing nature

Corrosion resistance against humid environment

Ease in erecting and dismantling within lower time
Specifications:
Wall form & Hardware
Conventional Wall form Shuttering
Typical Set-up using Splay Panels
Concrete Hardware
Coil Ties, Water Seal Ties & Loops
Tie Bolts
Plastic Cones
Spring Coils
Assembly nut & bolts & wedge & clip to connect panels & soldiers
Wall forms and Flexible Panels
CONVENTIONAL WALL FORM SHUTTERING




Typical arrangement using CH. Soldier
These consists of wall form panels prepared out of 12 gouge Sheet and M.S. Angel or Flat Frame, channel or Heavy Duty Soldiers, Tubular or Channel walers & accessories. Panels offered in 1.25m & Soldiers in 2.5m heights. Flexible panes are used for curved walls, and in place of channel soldiers for single sided shuttering; heavy duty soldiers to be used.
Typical arrangement using H.D. Soldier
Double Adjuster Panel, Splay Panel, inter Corner Panel, External Corner Angle and Lap Angle etc., as also wall form accessories like Single clip, Double clip, Bridge clip, Assembly bolt and wedge / clip etc. are used for various applications of conventional wall form shuttering.


HARDWARE
Concrete Hardware
Tie Bolts
Plastic Cones
Spring Coils
Assembly nut & bolts & wedge & clip to connect panels & sol die
Heavy duty Tie system
The capacity of this concrete heavy duty hardware system is up to 5T.
12 and 20 mm dia.
12 and 20 mm dia.
12 and 20 mm dia.
12 and 20 mm dia.
WALL FORM AND FLEXIBLE PANELS
Wall form Panels
Internal Corner Panels
Double Adjuster Panels
Splay Panel
External Corner Angle

Height (mm)
Type
Size in mm
1250
* 90o Internal Corner Panel
1250 x 150 x 150
1250
* 135o Splay Panel11690
1250 x 200 x 100
1250
*90o External Corner Angel
1250 x 45 x 45
1250
* Double Adjuster Panel
1250 x 225
1250 x 150
Slab Form work
Floor / Slab Form

They are manufactured out of 14 gouge-sheets with pressed flanges and stiffener. Available in standard sizes 1150x600, 900x 600, 1150x300 & 900x300 mm and other sizes can be made available on request.

Floor/Slab Form Adjusters can fill up irregular slab shapes and eradicate use of cut pieces of timber. They are available in standard sizes of 1150x400, 900x400 and 600x400 mm.
Metri forms / Quick Forms


For production of concrete floors and walls; the primary formwork system of Metri form/Quick Form is used. This is the most money-making system as it requires nominal assembly and dismantling-time along with a minimal number of parts.
Metri forms also includes the advantages of early striking which will spectacularly increase output, even as employing labour more resourcefully. For laying of slabs at common heights Metri form system can be used with props or with quiklok scaffolding for bigger heights.
Metri form/Quick form is the most cost-effective system with early striking rate which means early removal of form-work with slab left behind supported on props with drop heads. It requires Minimal assemble and dismantling time coupled with advantage of early striking (Early removal of form-work with slab left with support on props with drop heads). This makes it a gainful system and gives remarkable outputs with maximizing output and reducing time & labour.

Metri form with drop heads can be used with props for regular heights or with Quick lock Scaffolding system for bigger heights of slab. The gears of Metriforms system designed by MCE are available in sizes 1.2, 1.8 and 2.5m and drop head for 38/70 mm deep Metri form Beam.

The size of Metriform beams encompasses 1.2 m, 1.8 m and 2.5 m.

Drop head with size of 38 / 70 mm is used with deep Metriform Beam.
Universal panels in size of 38 mm /70 mm is formed from high-strength 2 mm sheet with loose flanges and stringers differing in size from 1155 x 600 m, 1150x 300 mm, 900x 600mm and 900x300 mm.
Adjuster Panels differing in size from 38 mm or 70 mm is fabricated from high-strength 2mm sheet with pressed flanges with sizes including 1150x400 mm, 900x400 mm and 600 x 400 mm.


| | | |
| --- | --- | --- |
| Metri form Beam | Different sizes of Metri form beams makes this system suitable for different sizes of grids and use of special Metri form beams can allow early striking of even beam bottom form work. | Working of Dop heads |
| Infill Beam | | Before Striking |
| Drop head | | After Striking |