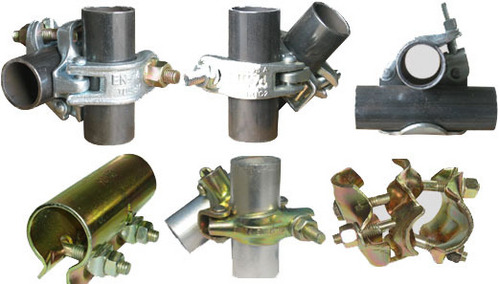 Scaffolding Fittings
Product Code : DS-01
Product Description
Since our inception in this domain, we have been instrumental in manufacturing, exporting and supplying Scaffolding Fittings. At our modern production unit, the offered fittings are manufactured by making use of the superlative quality basic materials with the help of progressive techniques. Checked on different aspects, these fitting are widely used in assembling of scaffolding. Apart from this, the offered Scaffolding Fittings are available with us at market leading prices.
Features:
Compact size and dimensional accuracy assure easy fitting

Owing to corrosion resistant nature, these fittings can easily withstand against adverse conditions

Robust construction enhance their durability

Seamless finish ensure simple installation

Superior dimensional stability and smooth finish
Scaffold Tubes
Steel Scaffold Tubes are available in black color, 48.3 mm O.D., gentle steel with continuous weld and 40 mm. N. B. Medium and Heavy class steel tubes obey the rules to IS 1161-1979/1239, YST-210, YST-240 grade and BS 1139/1775. We design an extensive range of tubes with varied length ranging from 4.5-6M and are available in various colors

Steel Fittings
Diamond Scaffolding Company Pvt. Ltd. is a company, which is significantly well-liked and accredited for its unmatched quality products and rational prices. We are a legendary manufacturer and exporter of world-class Steel Scaffolding, Formwork System, Wedge Lock, Swivel Scaffolding Couplers, etc.

Pressed Right-Angle Coupler Or Double Coupler
This coupler is basically used for fastening scaffold tubes at right angle. Right angled couplers are available for 40 X 40 mm N. B. Pipes and 40 X 50 mm. N.B pipes.
Pressed Swivel Coupler
This type of coupler is needed for connecting two tubes at any angle other than the right angle. Swivel couplers are available for 40 X 50 mm. N.B pipes and 40 X 50 mm. N. B. pipes.
Sleeve Coupler
This type of coupler is used for axial connection of two scaffolding tubes that are subjected to bending or axial tension. Sleeve Couplers, manufactured by Diamond Scaffolding Company Pvt. Ltd., are having smooth inside surface and firm bolts to provide adequate external grip to be connected tubes like a sleeve.
Drop-forged Double / Right Angle Coupler
This is a complete load bearing coupler made from drop-forged body & cap incorporating captive 'T' bolts to be tightened for joining two scaffold tubes at the right angle.
Drop-forged Swivel Coupler
A one-piece complete load bearing coupler in rugged design to be tightened with 'T' Bolts for adjoining two scaffold tubes at any angle for diagonal bracing.
Drop-forged Putlog (Single) Coupler
A special coupler made from drop-forged cap intended to match the double coupler.
Expanding Joint Pin

Expanding joint pin is an internal fitting made out of 32 N. B. diametrically cut (longitufinally split) pipes for joining two tubes end to end, which are subjected to bending and axial compression only.
Spigot

This component is an alternative for expanding joint pin made out of square tube with nut and bolt arrangement for proper fixing.

Base Plate
Fixed Base plates manufactured by DSCPL are made out of plate 150 X 150 X 6 mm. With spigots / pins for fixing with 40 N. B. scaffold tubes, are passed through a strict quality control procedures. So, these plates have plain surface to transfers load to ground uniformly.
Adjustable Base Plates
Made out of plate 150 X 150 X 6 mm and screwed jacks of dia 32 mm or 34 mm or 36 mm or 38 mm with adjustment of 225 mm or 350 mm or 450 mm or 550 mm. These Base plates give stability to scaffolding Fittings with desired adjustment at the base
Adjustable Forkhead

"Available in hollow & solid design with various adjustments from 75 mm to 660 mm with malleability / cast iron nuts with forkhead. To accept steel or timber runners at top of scaffold verticals. All duly electro plated / painted finish.